Old Vine Red a non-vintage blend with stacks of admirers
Old Vine Red a non-vintage blend with stacks of admirers
Posted by BEC on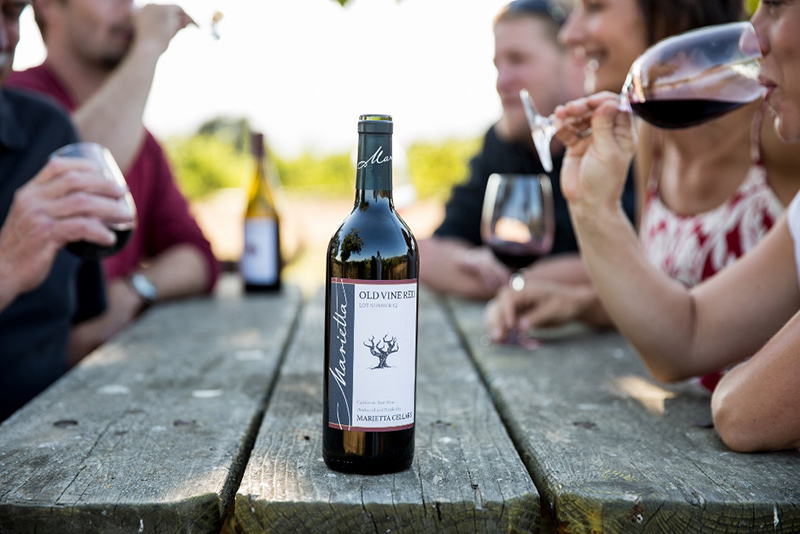 For more than three decades critics have rated an unpretentious non-vintage blend from family-owned Marietta Cellars as one of California's best value red wines.
The Bilbro brothers themselves describe their Old Vine Red as "our modern Californian version of an Old World table wine". A zinfandel-based blend, it's typically made with the addition of petite sirah, carignan and small amounts of other unnamed varieties.
Old Vine Red was the first wine Jake and Scott's father and founder of Marietta, Chris Bilbro, produced back in 1980. That bottle was designated Lot 1 and, with two releases a year, the winery is now up to Lot 62, which once again has attracted rave reviews.
"It's hard to find a better value," said Tim Fish for Wine Spectator, who gave it 90 points. "It's zesty and has personality to spare, with loads of licorice, blackberry, smoky pepper and grilled herbs."
And sommelier Peter Eastlake, writing for Food & Wine magazine: "Marietta has some smoking wines right now – they're just killing it. This is a bold Northern Sonoma red that's very hard to resist, loaded with ripe, chewy, lusty, dusty fruit. It may be my favourite all-around California red at this price."
The renowned wine critic Robert M Parker Jr has long been a fan of both Marietta Cellars (naming it amongst his four best value US wineries of the year) and Old Vine Red (picking it as one of his top three great value wines of the year). In fact, he's gone as far as describing it as "California's answer to a top-notch Chateauneuf du Pape".
"My fondness for the non-vintage blend of many vintages and grapes goes back to when I first reviewed the Old Vine Red Lot 14," said Parker. "Production has soared since then, but the consistency in quality has remained remarkably high. These are terrific offerings from this value-priced winery."
When Chris Bilbro started that winery in 1978, he named it after his great aunt Marietta who taught him the important things in life – love of family, fishing, hard work … and how to cook a mean minestrone.
For the first 20 years Chris pretty much ran Marietta Cellars single-handedly, sourcing the grapes, making the wine and selling it nationally. Now that two of his sons have taken over the reins (the third son Sam has created his own wine label, Idle Wild Wines), Chris just has two remaining responsibilities: he checks fruit during harvest and helps Scott during final blending. That frees him up to hunt in California and Montana, fish in Alaska, enjoy wine and spend time with his six grandchildren.
Jake and Scott say their dad taught them what really matters when it comes to both life and making wine. "He's a tireless, big-hearted, and humble man. He made wine by feel and instinct. Following those ideals is what allows us to carry on his tradition of blending great wines and selling them at fair prices. At Marietta Cellars, our wines are honest, generous, satisfying, and dependable. Just like our Dad."
Planet Wine's shipment of Old Vine Red Lot 62 will leave California shortly, but in the meantime we have the equally lauded and appealing Lots 59 and 61, both a steal at $34, so why don't you give them a try.
Marietta Cellars Old Vine Red Lot 59
---